Miserrimi quipe est ingenii semper util inventis et nunquam invendiendis.
«Of the mean spirit it is proper to employ only stereotypes and never one's own ideas», from «The field has eyes, the forest has ears» The Bosch.
Francisco Fernández de Vega is Full Professor of Computer Architectures at the University of Extremadura.
His research in the confluence of Parallel and Distributed Computing, Artificial Intelligence, Arts and Music, has been internationally Awarded:
Parallel Problem Solving from Nature (PPSN) 2002 Conference Best Poster Award, Granada, Spain.
Linextremix Educative Videogames Award, Mérida, Spain. 2006.
Music Information Retrieval and Exchange (Mirex) 2011 competition: 3rd place piano transcription competition, Miami, USA.
Best Paper EvoHot 2008 (Evostar 2008 conferences), Napoli, Italy.
ACM Gecco 2013, Evolutionary Art, Design and Creativity Award, Amsterdam, Netherlands.
Show Your World International competition Finalist 2017, The Gallery MC, New York, USA.
Spanish Association for Artificial Intelligence, Best AI APP Award, 2021 Málaga, Spain.
He was CETA-CIEMAT Chair 2007-2009, University of Extremadura CIO from 2005-2007, and Vice-Dean of Research at Centro Universitario de Mérida, from 2004-2005.
He received the Best PhD Engineering thesis award in 2002, University of Extremadura.
He is IEEE Senior Member, and Associate Editor of AiCommunicatons.
Mi punto de vista sobre la Inteligencia Artificial.
En esta entrevista en canal Extremadura tuve la oportunidad de comentar como veo nuestra relación con la Inteligencia Artificial.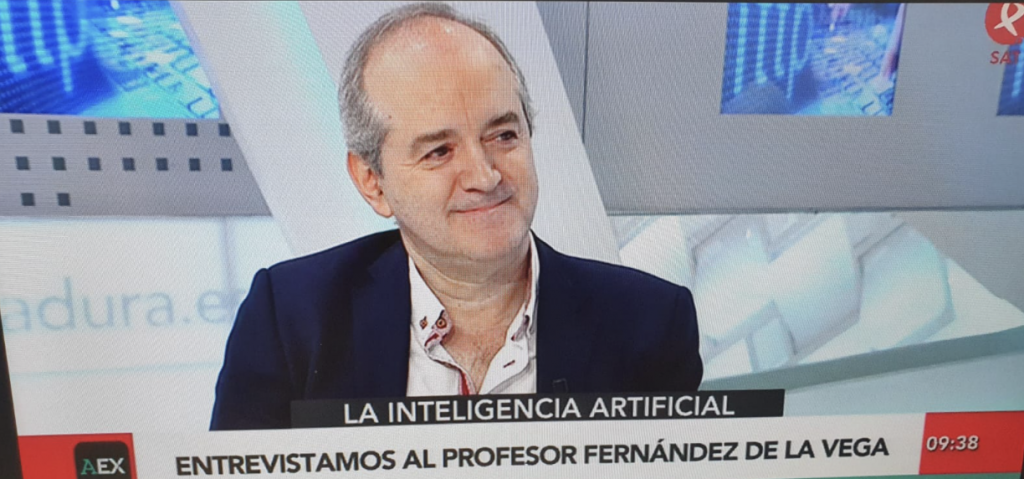 It is written, Man shall not live by bread alone… (Mattew 4:4)
Music, the arts, and sciences must be part of a whole.